Alice in Wonderland: An X-Rated Musical Fantasy (1976)
IMDB info | TMDB info
Language: English
745.95 MB | 01:17:43 | 1152 Kbps | avi | 640×352 | MPA1L3, 48 Khz, 2 channels, 176 Kbps | Subs: N/A
Genres: Adult, Comedy, Fantasy, Musical, Erotica | Country: USA
Alice is a virginal librarian, cheerful and outgoing, who acts and dresses younger than her age. She rebuffs William, a suitor, because he's insistent on behavior she considers inappropriate: she's a prude. While daydreaming about reliving her life, a white rabbit taps her on the shoulder, and she follows him to Wonderland, where playful animals and people introduce her to her imagination and to pleasure. After encounters with the imperious Queen of Hearts, Alice decides that Wonderland may not be for her, and she longs for William.
Title: Alice in Wonderland: An X-Rated Musical Fantasy (1976)
Genres: Adult, Comedy, Fantasy, Musical
Director: Bud Townsend
Writers: Bucky Searles (screenplay), Lewis Carroll (book)
Actors: Kristine DeBell, Bucky Searles, Gela Nash, Ron Nelson
Rating: 6.4
Votes: 2679
Rated: N/A
Townsend's film is head and shoulders above the 70s skin-flicks. There is an energy and sense of oddball invention in Alice that's missing from so many of its contemporaries. And it's made all the more bizarre by Townsend's decision to stage the whole thing as a musical – when the cast aren't enthusiastically shagging each other senseless, they're bursting [not very well, it has to be said] into song. In fact at it's oddest, the film actually stages song and dance routines during the sex scenes, something that really does have to be seen to be believed.
At the centre of all this surreal wackiness is the lovely Kristine DeBell who had enough acting talent – something that seems to be positively discouraged in more recent porn efforts – to enjoy a mainstream career later, appearing in many popular TV shows of the late 70s as well as opposite Jackie Chan in The Big Brawl. No-one would ever claim that she's even a good actress, let alone a great one, but she's engaging and enthusiastic, projecting just the right air of innocence to make the madcap story work.
Alice in Wonderland seems to exist in a number of cuts, some more sexually explicit than others. At its most explicit, the film is said to be something of an endurance test, with clinical, lingering close-ups that allegedly bring proceedings to a shuddering halt. The 'soft' version [which is actually still quite suggestive] zips along at a fair pace and emphasises the silly joie de vivre of the whole daft enterprise.
Carroll purists would recoil in abject horror at the very thought of an adaptation featuring an almost constantly nude fellatrix in place of their more traditional Alice, but anyone with a taste for the weird, the off-the-wall and the downright silly will find much to enjoy in this unique reworking of the novel.
The film was produced by adult film mogul Bill Osco, the producer of the first mainstream adult film, Mona (1970), and its sequel Harlot (1971), as well as the comedy/stop motion effects hit, Flesh Gordon (1974). Osco chose to make as his next project a musical soft-core version of the Lewis Carroll novel, finding that the story rights were in the public domain. The result was an X-rated feature which was picked up by 20th Century Fox, who cut three minutes to obtain an R-Rating.
Released at Osco's suggestion by Fox on the same day as Star Wars, Osco having realised that the film was going to be a hit and convinced Fox to book Alice in every venue that played Star Wars. As a result, Alice went on to gross over $90 million dollars worldwide, thus making it one of the most successful adult films ever. Two years later the film was recut to add some reshot hardcore scenes, using some of the original actors, with an added credit scroll explaining the demand for the hardcore version.
Derek Armstrong, All Movie Guide wrote:
Bud Townsend's X-rated version of Alice in Wonderland carries the gonzo '70s spirit of a porn-chic film like Fritz the Cat — which naturally also makes it shoddily produced and essentially outr. A film that must have been influenced by the heavy drug use of its creators, this Alice should probably be watched under those conditions as well. Populated by bizarre characters (not all of whom spring from the source material) decked out in furry animal costumes, the film moves along the basic story line, but peppers it with flippant sexual episodes, meant to be humorous more than titillating. Parts of it aren't even that unconventional, and the sex is not especially graphic, but the overarching weirdness of it all is the lasting impression. The scenes, such as they are, are linked together by hilarious porn-punned title cards and zany band music, which plants the film's tongue even more firmly in its cheek. This is not a good movie by any stretch of the imagination, but it's a prototypical addition to the guilty-pleasure library of films that are so bad they're good. Plus, for film enthusiasts, it's a telling window into the cinematic experimentation of an era marked by its freedom from norms.
Wikipedia wrote:
Alice in Wonderland (sometimes listed as Alice in Wonderland: A Musical Porno) is a 1976 pornographic musical film, loosely based on Lewis Carroll's children's book Alice's Adventures in Wonderland. It was directed by Bud Townsend and starred Terri Hall, Bree Anthony, and Kristine DeBell. The theatrical release of the film was on December 10, 1976 in the USA. On May 26-27 it was shown at the Grand Illusion Cinema in Seattle, Washington during Satellites 2000: Screens From Outer Space.

The film initially received a X-rating in 1976 and subsequently, an R-rating a year later with 3 minutes cut from the film. It was later re-released on VHS with a somewhat grandiose title roll preceding the movie noting that quite a bit of hardcore footage had originally been shot, but 'could not be included' at the time. Several reviews opine that the added material actually makes the movie less enjoyable by dragging down its pacing. It has also been re-released on DVD, though whether this release is official, and which source material it was made from, is unclear.
Version
This upload contains the version marked as XXX on the DVD.
Extras
Exclusive featurette with adult film guru Bill Margold & feminist critic/adult actress Lena Ramone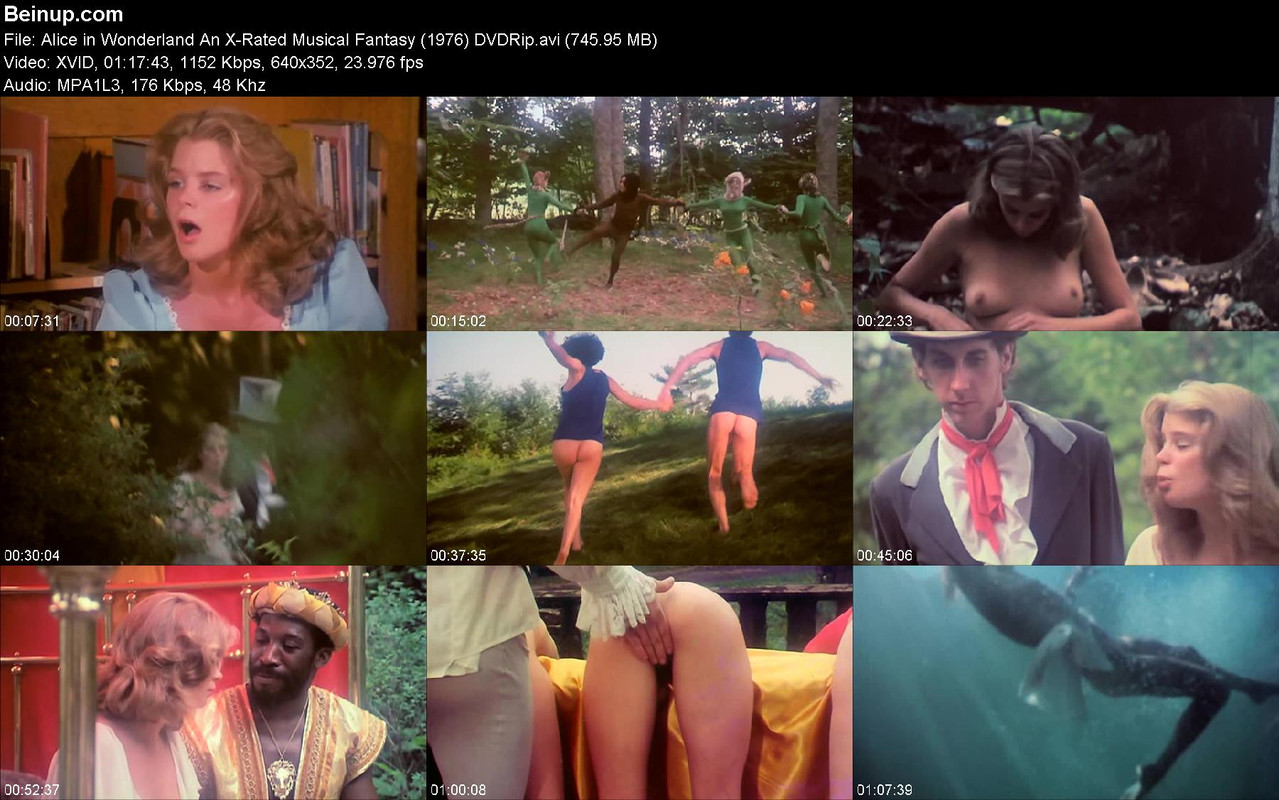 Download from NitroFlare
http://nitroflare.com/view/719DF25483E4B90/Beinup.com_Alice_in_Wonderland_An_X-Rated_Musical_Fantasy_1976.zip
Download from RapidGator
https://rapidgator.net/file/f30631fdbd93360f62dd60e4160ffb3a/Beinup.com_Alice_in_Wonderland_An_X-Rated_Musical_Fantasy_1976.zip