Change pas de main – Don't Change Hands (1975)
IMDB info | TMDB info
Language: French
1.27 GB | 01:26:27 | 1900 Kbps | mkv | 646×576 | AC3, 48 Khz, 2 channels, 192 Kbps | Subs: English
Genres: Adult, Comedy, Drama | Country: France
A well-known politician woman receives a tape showing her son in a porno movie. She decides to hire a female detective to figure out who is trying to black-mail her.
Title: Change pas de main – Don't Change Hands (1975)
Genres: Adult, Comedy, Drama
Director: Paul Vecchiali
Writers: Noël Simsolo (scenario and dialogue), Paul Vecchiali (scenario and dialogue)
Actors: Myriam Mézières, Françoise Giret, Hélène Surgère, Sonia Saviange
Rating: 5.5
Votes: 151
Rated: X
Experimental film mixes genres, styles and even XXX vs. soft-core
Paul Vecchiali's work is an acquired taste, as he is a filmmaker who marches to the beat of his own drum, never fashionable or popular. Produced by a famous pornographer of the day (Jean-Francois Davy of "Exhibition" fame) it's a rare mainstream (sort of) movie that carefully integrates explicit hardcore sex content into a strong story.
Like other of his films, notably "Femme Femme", Vecchiali seems most influenced from the Nouvelle Vague by Jacques Rivette, with his strong heroines and challenging mix of camp with seriousness. Here we have Myriam Mezieres, an uninhibited performer who takes Paul's challenge to do strong soft-core sex scenes to heart, as a trench-coated hard-boiled detective, with most of the many prominent roles going to similarly tough women.
Her case is to investigate what's going on with Helene Surgere's adult son, who we see at the opening of the film starring in a hardcore black & white stag movie that leaves nothing to the imagination.
With plenty of shoot-outs and mock-violence, Vecchiali creates a strange, campy world for her to move in, revolving around a nightclub where drag queens perform on stage alongside cis-females, wigs are on everybody, and cast members sometimes burst into song or dance without provocation. There are several orgies integrated into the convoluted plot, both staged both soft-core and hardcore, and ultimately when the story is resolved and a scandal blasted across the front page of the newspapers, we see Myriam walking away with the imagery of a serious film as conclusion.
Along the way the camp approach comes on so strong that this movie has "cult classic" written all over it, even if that did not come to pass. The direct-sound dialog has bite, the acting top-notch and the unpredictability of situations delightful for the jaded movie buff. However, a more general "art house" target audience is likely to have found it all too precious and indigestible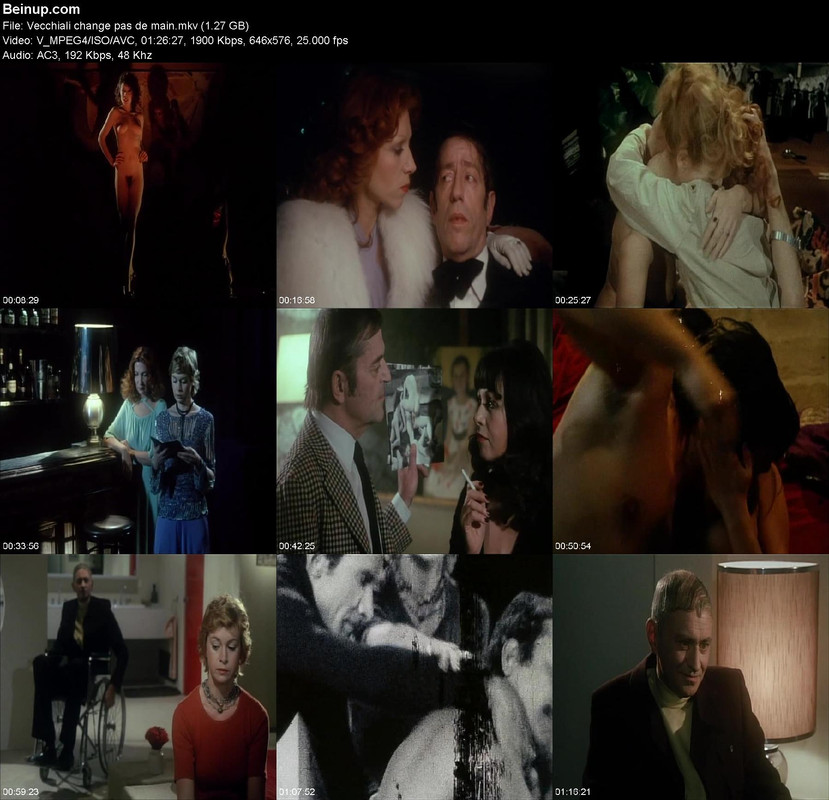 Download full movie Don't Change Hands (1975)
Download from NitroFlare
http://nitroflare.com/view/77D6D52BA4A92B0/Beinup.com_Change_pas_de_main_1975_DVDRip.zip
Download from RapidGator
https://rapidgator.net/file/a927503d30fdb4ccb21e7c2028a97479/Beinup.com_Change_pas_de_main_1975_DVDRip.zip