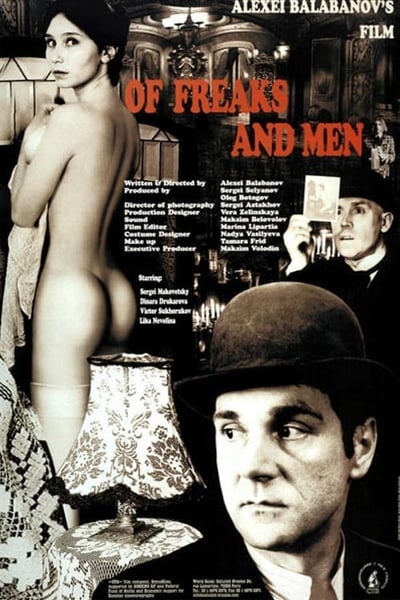 Of Freaks and Men (1998)
IMDB info
Language: Russian
1.46 GB | 01:28:59 | 2139 Kbps | avi | 704×432 | AC3, 48 Khz, 2 channels, 192 Kbps | Subs: English
Genres: Comedy, Drama, History
Of Freaks and Men (1998) Dariya the maid getting a boy to touch her large breast is just one incident that occurs when Yohan and Victor infiltrate two families, forcing young Liza and blind Ekaterina to appear in porn, but they are not so innocent themselves.
Title: Of Freaks and Men (1998)
Genres: Comedy, Drama, History
Director:Aleksey Balabanov
Director:Aleksey Balabanov
Actors:Sergey Makovetskiy, Dinara Drukarova, Anzhelika Nevolina, Viktor Sukhorukov
Rating:7.2
Votes:2650
Rated:N/A
A Soviet-made, experimental period-drama, obviously filmed on a budget, but with subversion and talent to spare. Lemme put it this way, think Guy Maddin meets Eisenstein, as filtered through a Dark Brothers movie. Or perhaps a pre-WWII Russian BOOGIE NIGHTS? Yes, it boggles the mind, and so will this overwrought, oversexed and deliriously overstyled visual feast from director-writer Alexei Balabanov.
Beginning like a silent-film (befitting the story's time period) and soon shifting to Sepia-toned sound, were introduced to an array of St. Petersburg characters. There's Dr. Stasov and his adopted Siamese twins, Kolya and Tolya; Engineer Radlov and his comely daughter Liza (Dinara Drukarova); plus Johann (Serge Makovetsky), who's destined to become the cold and casually-homicidal kingpin behind Russia's early pornographic industry.
The storyline initially bounces from one thread to another, with seemingly-little connection, but Balabanov begins to tighten the noose when one of Johann's cruel filth-peddlers, Viktor (Viktor Sukhorukov) becomes intrigued by Stasov's conjoined "freaks" and begins photographing these young boys in the nude. Plus, when Radlov dies, and leaves his home (including Liza) to longtime housekeeper Grunya — the secret-sister of Johann — this sleaze-merchant quickly insinuates himself into the household.
And let's not forget Johann's photographer, who's busy courting Liza. Full of outrageous dramatic turns (from forcing a blind woman into a spanking movie, to the freaks' unexpected acceptance into high-class society), this small film paints an epic portrait of humankind's aberrant desires. Yet while its subject matter is the stuff of exploitation, the tightly-structured filmmaking and storytelling shifts it into an altogether new realm. A uniquely-cinematic tableau of fetishes, carnality and cruelty, this embraces perverse turn-ons which are rarely touched upon in US fare, but does so with an over-the-top, almost hypnotic artistry.
Of course, in spinning his intricate story, Balabanov provides loving recreations of what was once considered scandalous pornography. Technically superb on every level, with expert cinematography by Sergei Astakhov, this might not be the most lighthearted romp, but it's beautifully crafted, deliriously twisted and altogether fascinating.
Of Freaks and Men Review:
There are moments in this deliciously subversive film when you suspect Alexei Balabanov is being satirical and those scenes of pornographers taking over the grand houses, only to corrupt them with their nasty habits, refer to organised crime's stranglehold on the Russian economy, not to mention the state of the nation.
The film is shot as a pastiche of silent cinema, without Chaplin's famous fast motion. In old St Petersburg the bourgeoisie live innocent and privileged lives, while in the basement of an abandoned building tight-lipped Johan (Sergei Makovetsky), with his smirking, sinister sidekick (Victor Sukhorukov), organises nude spanking sessions, which are photographed and sold to sado-masochistic postcard collectors, when not purloined by their naughty maids.
The kind doctor has adopted asiatic Siamese twins, who are reaching puberty and being taught to sing. His elegant wife is blind and won't have anything to do with him under the bedclothes. The gentle widower, who is reputed to be a railway engineer, lives with his lovely daughter (Dinara Drukarova), blissfully ignorant of Johan's true nature, or what he gets up to when unsupervised. Soon both these honourable men will be gone and the circumstances of those left behind changed irrevocably changed, not always (if ever) for the better.
When evil triumphs, humour turns black. Glimpses of turn-of-the-century porn has an uncomfortable, humiliating look to it. Balabanov massages human nature's ugly heart. The film is so original and startling, it appears playful, when really it concerns an abuse of power that feeds off trust and decency, perverting both.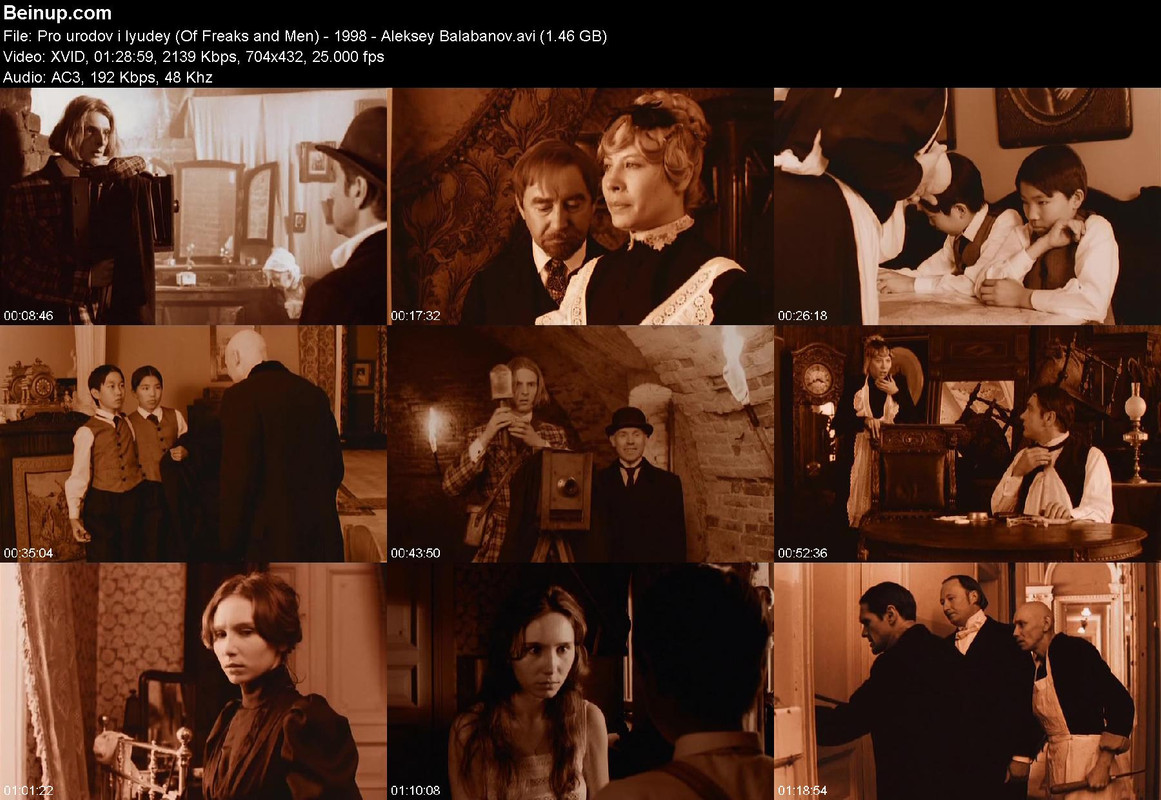 Download full movie – Of Freaks and Men (1998) Pro urodov i lyudey DVDRip
Download from NitroFlare
http://nitroflare.com/view/5161A3A029AE723/Beinup.com_Pro_urodov_i_lyudey_Of_Freaks_and_Men_-_1998_-_Aleksey_Balabanov.z01
http://nitroflare.com/view/07D8BE904AC61D4/Beinup.com_Pro_urodov_i_lyudey_Of_Freaks_and_Men_-_1998_-_Aleksey_Balabanov.zip
Download from RapidGator
https://rapidgator.net/file/e109787e333e0fdb9bbaab8c6a449736/Beinup.com_Pro_urodov_i_lyudey_Of_Freaks_and_Men_-_1998_-_Aleksey_Balabanov.z01
https://rapidgator.net/file/860017b272577103d1db71738567b41f/Beinup.com_Pro_urodov_i_lyudey_Of_Freaks_and_Men_-_1998_-_Aleksey_Balabanov.zip