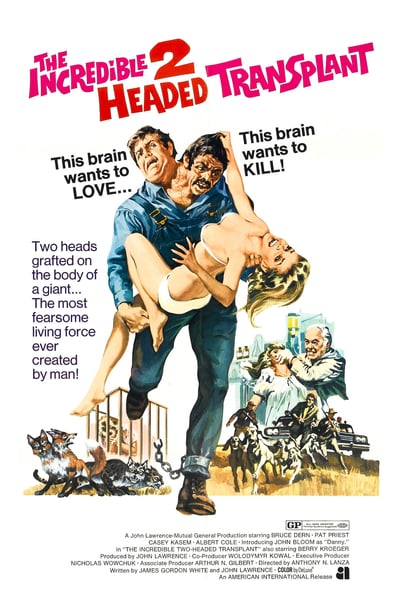 The Incredible 2-Headed Transplant (1971)
IMDB info
Language: English
1.11 GB | 01:27:54 | 1599 Kbps | avi | 720×390 | MPA1L3, 48 Khz, 2 channels, 192 Kbps | Subs: N/A
Genres: Horror, Sci-Fi
Dr. Roger Girard is a rich scientist conducting experiments on head transplantation. His caretaker has a son, Danny, who, although fully grown, has the mind of child. One day an escaped psycho-killer invades Girard's home, killing Danny's father before being gunned down himself. With the maniac dying and Danny deeply unsettled by his father's death, Dr. Girard decides to take the final step and transplant the killer's head onto Danny's body. Of course, things go horribly wrong and the two-headed creature escapes to terrorize the countryside.
– Also Known As: The Incredible Two-Headed Transplant
Title:The Incredible 2-Headed Transplant (1971)
Genres:Horror, Sci-Fi
Director:Anthony M. Lanza
Director:James Gordon White, John Lawrence
Actors:Bruce Dern, Pat Priest, Casey Kasem, Albert Cole
Rating:3.2
Votes:1293
Rated:R
Roger (Bruce Dern) is a doctor doing experiments on animals. He is putting two heads on a single body and he finally gets his chance to do it with humans when a large but mentally challenged man becomes available as a subject but he puts the head of a killer on him and soon the monster is running loose.
THE INCREDIBLE 2-HEADED TRANSPLANT was the type of film that AIP was turning out to drive-ins back in the day when this type of exploitation was grand. As with a lot of drive-in films, the most important thing was a great title and there's no question that this film has that. With that said, there really isn't too much exploitation here and it's a tad bit too dry for its own good.
Apparently the mad scientist role was originally meant for someone like Vincent Price but the role went to Dern instead. Dern is certainly a very good actor and he gives a good performance here but he plays it so serious and straight that it just doesn't added enough entertainment value for the type of film it is. The performance was more for a serious medical drama than a drive-in "B" picture. Casey Kasem was fun to see in his role and we also got Gary Kent, Pat Priest and Albert Cole.
The film is certainly mildly entertaining and the two-headed monster has an interesting look to it. The film is worth watching but at the same time there's no question that it falls well short of being a good movie. It also got outdone by the following year's THE THING WITH TWO HEADS.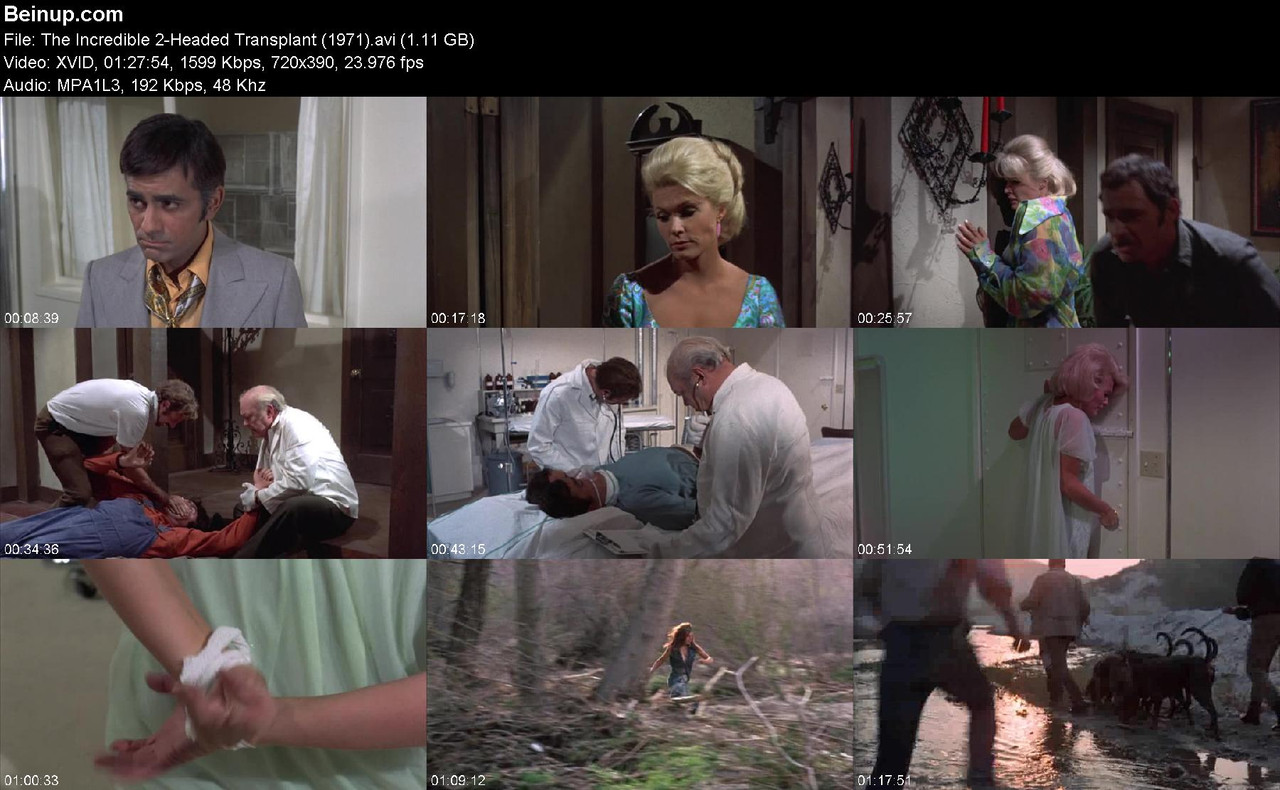 Download from NitroFlare
http://nitroflare.com/view/43B5CBDA88C0D63/Beinup.com_The_Incredible_2-Headed_Transplant_1971.z01
http://nitroflare.com/view/9CE66AFAAE520FE/Beinup.com_The_Incredible_2-Headed_Transplant_1971.zip
Download from RapidGator
https://rapidgator.net/file/6b95b11245a03db4ea34a2d640c7b0db/Beinup.com_The_Incredible_2-Headed_Transplant_1971.z01
https://rapidgator.net/file/fc3d0d5bfb573a1b9d91f85bb68a5a0c/Beinup.com_The_Incredible_2-Headed_Transplant_1971.zip