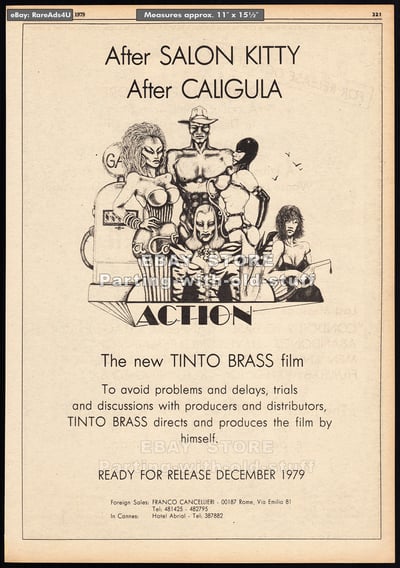 Tinto Brass – Action 1980
IMDB info | TMDB info
Language: Italian
1.06 GB | 01:56:22 | 1091 Kbps | mkv | 720×576 | AC3, 48 Khz, 2 channels, 192 Kbps | Subs: English
Genres: Drama, Erotica | Country: Italy
Bruno is an idealistic hero who questions the meaning of life in this confusing and sometimes hallucinatory erotic drama. After a night in jail, he is gang-raped by punk rockers in a garbage dump. He later saves an old man who believes he is Garibaldi and a woman he believes is Ophelia. Bruno watches helplessly as she later jumps from a window.
Title: Action (1980)
Genres: Drama
Director: Tinto Brass
Writers: Tinto Brass (screenplay), Tinto Brass (story), Gian Carlo Fusco, Roberto Lerici
Actors: Luc Merenda, Adriana Asti, Susanna Javicoli, Paola Senatore
Rating: 5.3
Votes: 257
Rated: N/A
Wow, I'm the first to comment on this title, what an honour. I suspect others haven't bothered because the film is so incredibly, unbelievably, jaw-droppingly awful. Now, I love Tinto Brass (kind of – I love the way he shoots women in movies like Cheeky, Miranda, The Voyeur etc) but this is his worst film by far, even worse than Snack Bar Budapest and Caligula.
It is desperate. It's incoherent, pretentious, stupid, impenetrable and intolerable. Even the music is dire and often hilariously inappropriate. Set and seemingly part-shot in London, it offers not one iota of English culture. It's very much Italian – lots of noisy jabbering and angry gesticulating. The 'story' follows an idealistic actor who goes on a strange odyssey in which he meets various bizarre types.
That's pretty much it. Some of the weird and ludicrous scenes: an actress is forced to defecate on set or be thrown off, so men cajole her into doing so; half naked mental patients sing a song with the staff; men with penises for noses and women with cooches for mouths dance in a field. And it's all so utterly meaningless! This being Tinto Brass there is nudity but the ladies are not shot in his usual loving fashion and there are no lingering vulva shots or upskirt shots.
For those interested, here are the sexy scenes available: a woman climbs out of a bath slowly (breasts and bush), a woman pulls her skirt up and panties down (bush) to sit on the loo; a woman dances around wearing only hold ups (boobs, fur); a woman climbs out of a taxi in just hold ups (again boobs and fur); a woman dances completely naked in a field; a couple dance naked in a field.
You may have to see this to realise how bad it is. The dialogue is bathetic, cod philosophical nonsense, and the director displays zero skill in keeping a narrative together. The actors are bad and unattractive.Quite a mess indeed, and not yet available on R2 DVD. It might struggle to get approval from the BBFC (partly because of the unpleasant and misogynistic toilet scene) but might sneak an 18.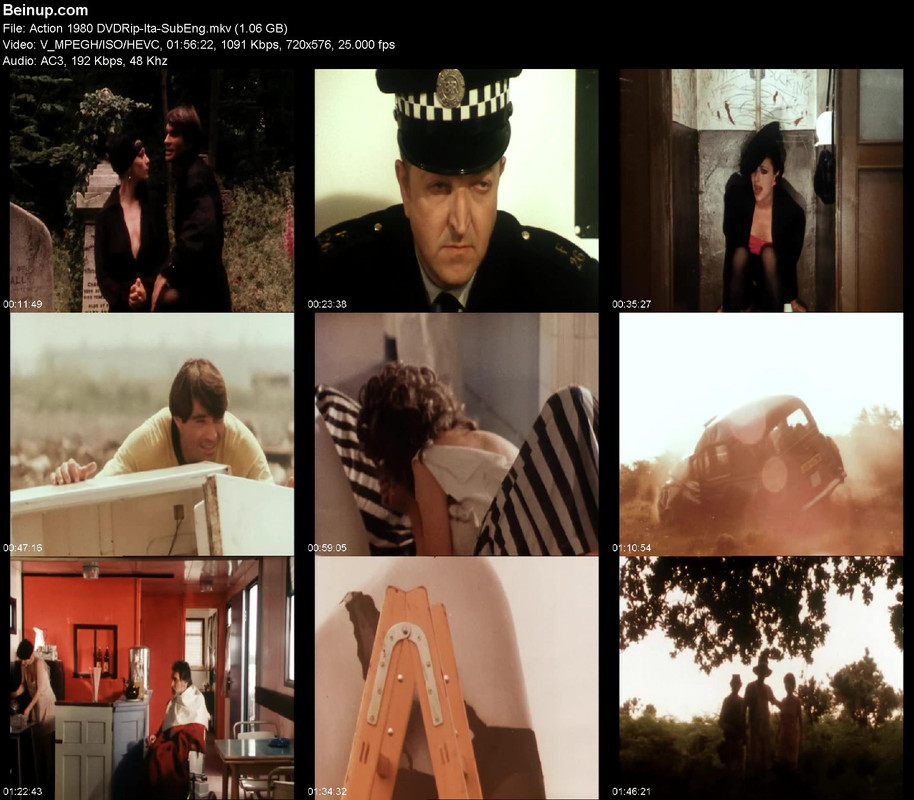 Download full movie Tinto Brass – Action 1980
Download from NitroFlare
http://nitroflare.com/view/F391F7A356C19DA/Beinup.com_Action.1980.DVDRip-Ita-SubEng.zip
Download from RapidGator
https://rapidgator.net/file/47a52650450fc7a5e5a4ff3ba19f2e8c/Beinup.com_Action.1980.DVDRip-Ita-SubEng.zip