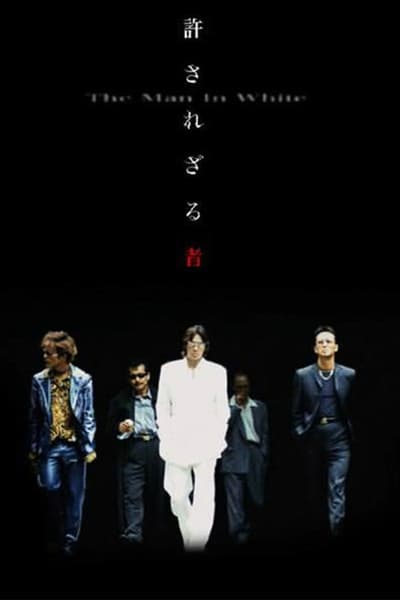 Yurusarezaru mono – The Man in White (2003)
IMDB info | TMDB info
Language: Japanese
1.5 GB | 01:35:38 | 2050 Kbps | mkv | 704×350 | AC3, 48 Khz, 2 channels, 192 Kbps | Subs: English
Genres: Crime | Country: Japan
A member of a Yakuza gang exacts revenge on the people responsible for the death of his boss.
Title: Yurusarezaru mono – The Man in White (2003)
Genres: Crime
Director: Takashi Miike
Writers: Shigenori Takechi (screenplay), Shigenori Takechi (story)
Actors: Masaya Sato, Shôko Aida, Naomi Akimoto, Narimi Arimori
Rating: 7.2
Votes: 224
Rated: N/A
Asuza is a yakusa always dressed in white, a pure, yet tarnished man. A child from the streets, he saw his father assassinated by his older brother, and his mother commit suicide. These traumatizing events haunt him in the present. Asuza is now a member of a criminal group.
He has been taken under the wing of the gang's leader, his new adoptive father. When this second father figure is suddenly assassinated, Asuza plunges rapidly into an infernal revenge scheme.
As he searches tirelessly for the killer, he discovers that once again, his older brother is the culprit. A confrontation is inevitable. When Asuza meets his brother face to face, he learns that behind every murder committed, lie motives more complex than they first appear.
After seeing his Father clubbed to death Azusa is left to fend for himself on the city streets , A Yakuza boss takes a shine to him and adopts him ,years pass by, Azusa has risen up the ranks of the gang, but after his sworn father – boss is murdered by a maniac gunslinger Azusa forgets his Yakuza code and goes on a one man killing spree and voes to wipe out all and everyone who might be involved in the killing, after learning from the killer himself (a person deeply connected to Azusza )that the hit was ordered by a massive Yakuza family with over 20,000 members, this is however is not enough to put him off and he continues on his vengeance trail. Non stop violent action,economical gritty direction and a great laconic performance from Japan's coolest star in years Masaya Sato, make this a must see for Mafia, Triad, Yakuza and Miike fans alike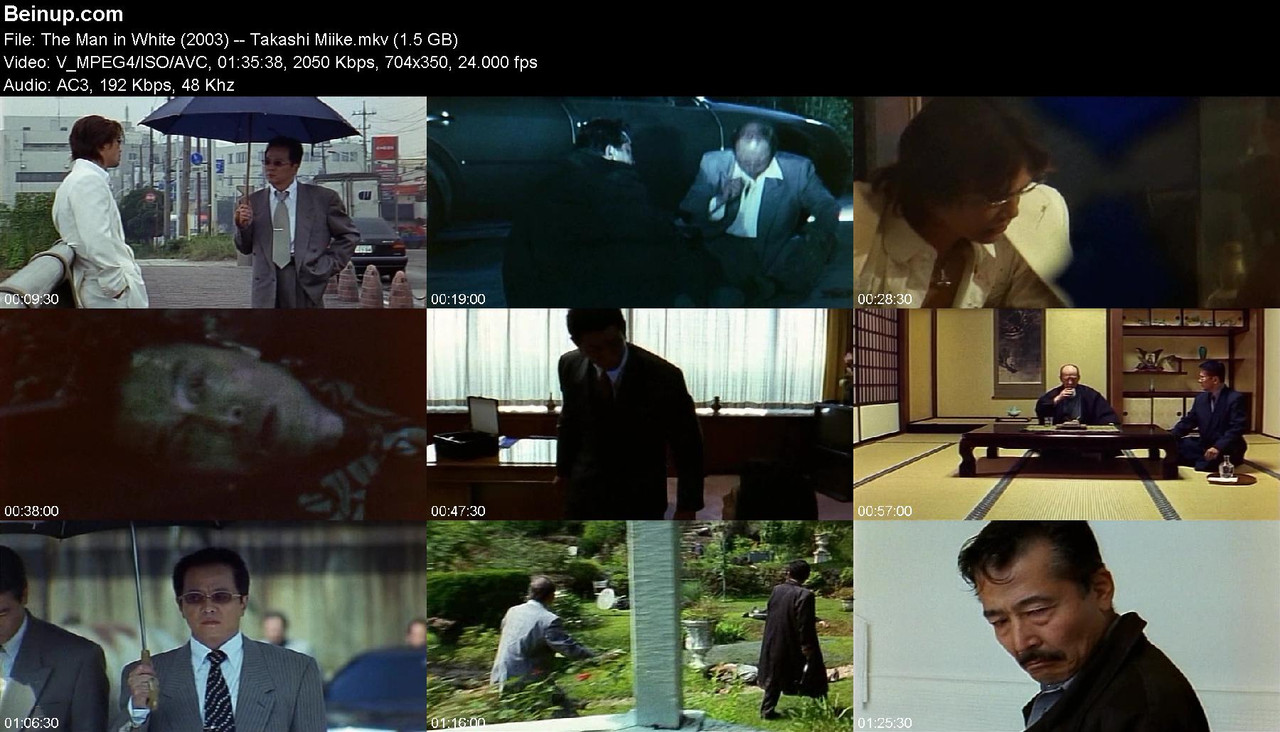 Download from NitroFlare
http://nitroflare.com/view/0EFF58372D73C7D/Beinup.com_The_Man_in_White_2003_–_Takashi_Miike.zip
Download from RapidGator
https://rapidgator.net/file/9bc88157989632c1eedbbe87b648b2a6/Beinup.com_The_Man_in_White_2003_–_Takashi_Miike.zip